What's a FAFSA?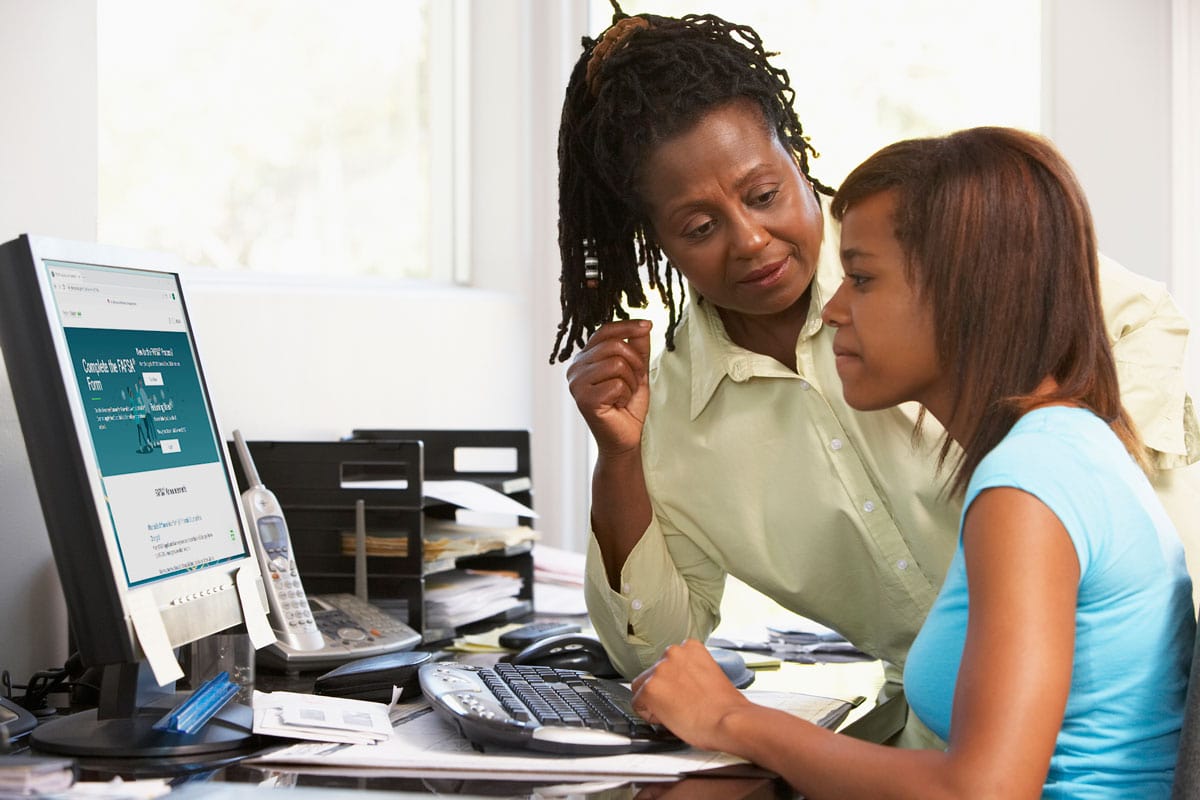 The Free Application for Federal Student Aid (FAFSA®) is an online form used to assess your family's financial ability to pay for college. It's free to apply, but you will need to set aside some time (and mental energy) to devote to completing it.
To begin, both parents AND the students will each need to establish a FSA ID. Essentially, this is just an online account with FAFSA. There are varying rules if parents are divorced or separated, depending on where the student lives and who is providing the majority of support. So, you may or may not need information from an ex-spouse. To make things a bit simpler, FAFSA offers an "IRS Data Retrieval Tool" which will pull your tax return numbers directly from your taxes via the IRS.
Depending on the inputs, you'll receive a number titled your "EFC," or Estimated Family Contribution (actually, in the coming years, this will be re-named the Student Aid Index, or "SAI" – in case you weren't already confused). This number represents what your family can afford per year. Most families respond with "How do they think I can afford that?!" That is where college planning comes in. It's prudent to seek out and apply for scholarships – which students can begin doing sometimes even before high school. Should student loans be considered in your situation? How much debt is too much debt? Is it worth it to consider another college even though this is your student's "dream" school? These are the questions to think about once you know your EFC (er, SAI…).
Join me on Tuesday, April 5, at 7 pm, to explore the financial aid process during a FREE college planning webinar.
A few common FAFSA errors:
Not submitting your FAFSA
"I don't need to fill it out – I won't qualify for any financial aid anyways."
Even if you're correct about not qualifying for aid, the FAFSA needs to be resubmitted each year that the student goes to school. You will want to complete the FAFSA initially in order to protect yourself in case your financial situation changes. If both parents lost their jobs and now you need that aid, your situation will be viewed more favorably if you can prove your financial hardship.
Further, information from the FAFSA is sometimes used for other types of aid, including from specific institutions or private financial aid providers. (Source)
Reporting retirement assets as investment assets
The FAFSA excludes retirement accounts from their calculations. Be sure you do NOT list those values where the form asks for financial assets, otherwise you're giving up potential aid. It's worth taking your time with each question.
Thinking the FAFSA is "it"
Unfortunately, there may be more. Depending on the school choice, your family may have to submit further applications or information before receiving potential aid. The second most common form is called the CSS Profile (College Scholarship Service), which may be required in addition to the FAFSA and is most used for private schools. The CSS asks more invasive questions and is more cumbersome than the FAFSA but is necessary when your student is being considered for aid at these given schools. Even further, other colleges and universities will require their own financial aid form as well as supporting documentation (tax return, pay stubs, account statements).
Easy enough, right?
Hopefully this provides a bit of clarity to the college planning discussion. The takeaway: it is never too early to start, and to seek out and utilize your resources! Stay on top of your deadlines and consider allowing your kid(s) to have some 'skin in the game'.
Oh, and remember our team is here to help if you'd like a personalized college plan for you and your family.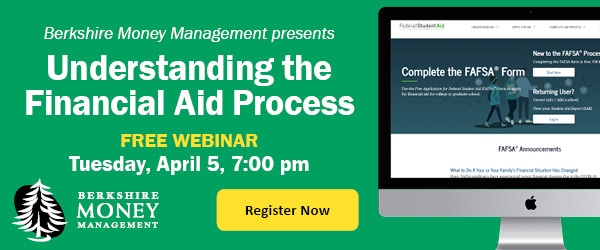 Lauren Russo, CVB, CEPA, is a financial advisor at Berkshire Money Management. 
---
This communication is distributed for informational purposes. Nothing in this communication is intended to be or should be construed as individualized investment advice. All content is of a general nature and solely for educational, informational and illustrative purposes. Registration with the SEC should not be construed as an endorsement or an indicator of investment skill, acumen or experience. Industry registrations, designations, recognitions or awards should not be construed as an endorsement or a recommendation to retain the Adviser by the granting entity or any regulatory authority. A detailed description of listed professional designations is available upon request on in our Firm's Form ADV Part 2B. Any information provided is of the date indicated. Future changes to tax laws and/or college financial aid rules could make some of the information provided inaccurate.