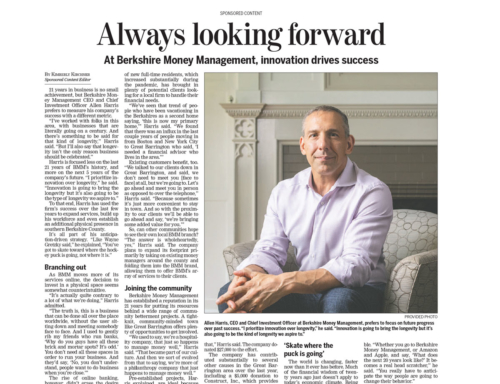 by Kimberly Kirchner, Sponsored Content Editor, The Berkshire Eagle 
21 years in business is no small achievement, but Berkshire Money Management CEO and Chief Investment Officer Allen Harris prefers to measure his company's success with a different metric.
"I've worked with folks in this area, with businesses that are literally going on a century. And there's something to be said for that kind of longevity," Harris said. "But I'll also say that longevity isn't the only reason business should be celebrated."
Harris is focused less on the last 21 years of BMM's history, and more on the next 5 years of the company's future. "I prioritize in-novation over longevity," he said. "Innovation is going to bring the longevity but it's also going to be the type of longevity we aspire to."
"Like Wayne Gretzky said, you've got to skate toward where the hockey puck is going, not where it is."
To that end, Harris has used the firm's success over the last few years to expand services, build up his workforce and even establish an additional physical presence in southern Berkshire County.
It's all part of his anticipation-driven strategy. "Like Wayne Gretzky said," he explained, "You've got to skate toward where the hockey puck is going, not where it is."
Branching out
As BMM moves more of its services online, the decision to invest in a physical space seems somewhat counterintuitive.
"It's actually quite contrary to a lot of what we're doing," Harris admitted.
"The truth is, this is a business that can be done all over the place worldwide, without the user sit-ting down and meeting somebody face to face. And I used to gently rib my friends who run banks, 'Why do you guys have all these brick and mortar spots? It's odd.' You don't need all these spaces in order to run your business. And they'd say, 'No, you don't understand, people want to do business when you're close.'"
The rise of online banking, however, didn't erase the desire many customers had for in-person, locally-based services. "A lot of banks would consolidate, close underperforming branches," Harris said. "And people would express outrage, and exclaim 'I can't believe this bank closed and now I have to travel a mile down the road.' And I thought, maybe these bank buddies of mine that I'm elbowing and picking on are onto something here."
BMM, which is headquartered in Dalton, introduced its first South County location, at 322 Main Street in Great Barrington, with a soft opening late last year. The office will formally open its doors with an open house on Thursday, April 28, from 2:30-5:30 p.m.
"I thought, maybe these bank buddies of mine that I'm elbowing and picking on are onto something here."
Great Barrington was an ideal location for the new office because BMM already had an established client base in the area, Harris said, and because the flow of new full-time residents, which increased substantially during the pandemic, has brought in plenty of potential clients looking for a local firm to handle their financial needs.
"We've seen that trend of people who have been vacationing in the Berkshires as a second home saying, 'this is now my primary home,'" Harris said. "We found that there was an influx in the last couple years of people moving in from Boston and New York City to Great Barrington who said, 'I needed a financial advisor who lives in the area.'"
Existing customers benefit, too. "We talked to our clients down in Great Barrington, and said, we don't need to meet you [face to face] at all, but we're going to. Let's go ahead and meet you in person as opposed to over the telephone," Harris said. "Because sometimes it's just more convenient to stay in town. And so with the proximity to our clients we'll be able to go ahead and say, 'we're bringing some added value for you.'"
So, can other communities hope to see their own local BMM branch? "The answer is wholeheartedly, yes," Harris said. The company plans to expand its footprint primarily by taking on existing money managers around the county and folding them into the BMM brand, allowing them to offer BMM's array of services to their clients.
Joining the community
Berkshire Money Management has established a reputation in its 21 years for putting its resources behind a wide range of community betterment projects. A tight-knit, community-minded town like Great Barrington offers plenty of opportunities to get involved.
"We used to say, we're a hospitality company, that just so happens to manage money well," Harris said. "That became part of our culture. And then we sort of evolved from that to saying, we're more of a philanthropy company that just happens to manage money well."
Pre-established projects, Harris explained, are ideal because they allow BMM to use their own particular strengths in support of those doing the hands-on work. "We realized that our expertise is in the wealth management side," he said. "So we tend to leverage folks who are doing some great things and when we identify great projects, we get behind them."
For example, "we're working very closely with a couple of re-ally smart people who are also involved in community development in Great Barrington, [filmmaker] Tim Newman and [Triplex Cinema owner] Richard Stanley, who began an initiative to bring wireless internet downtown. They were able to coordinate with a team to get the infrastructure together, but then they had to go out and actually raise the money to do that," Harris said. "I'm lucky enough to know these two folks, and I said, 'Berkshire Money Management wants to be a part of that," Harris said. The company donated $27,000 to the effort.
"… we're more of a philanthropy company that just happens to manage money well."
The company has contributed substantially to several other causes in the Great Barrington area over the last year, including a $5,000 donation to Construct, Inc., which provides housing assistance in the southern Berkshires, and $17,000 to the Berkshire Community Diaper Project. BMM also sponsored the Mahaiwe Performing Arts Center's 2022 season and the Southern Berkshire Chamber of Commerce's 2021 Holiday Stroll, as well as a program supplementing EBT purchases at the Great Barrington Farmers Market.
Harris is especially excited about joining the board of the Community Development Corporation of South Berkshire, which works to provide affordable housing and supports local businesses through its Small Business Technical Assistance Program. It's a more active role than many of BMM's other projects, which Harris appreciates. "We asked if we can help fund them, but we're also getting our hands dirty and working in the trenches," he said.
'Skate where the puck is going'
The world is changing, faster now than it ever has before. Much of the financial wisdom of twenty years ago just doesn't apply to today's economic climate. Being successful in the world of finance — especially over the long term — means constantly adapting to the next big shift in what clients want and what the market can offer.
"Every industry is different now than it was five years ago, or 10 years ago. It's not a pandemic thing. It's just the way services and products evolve — and they have to," Harris said. "'Once upon a time' is still today for a lot of financial companies. For some companies, the focus hasn't evolved past being investment centric: stocks, bonds, ETFs or mutual funds to buy or sell for the client."
"You really have to anticipate the way people are going to change their behavior."
BMM's value proposition extends beyond investment selection. To be truly effective, he argues, money managers need to consider the hows and whys of their clients' financial goals rather than relying on investments as a one-size-fits-all solution.
As an example, he described a recent conversation with a client in his mid-30s who, despite making six figures at his full-time job, was deeply unhappy in his position and seriously considering changing careers to work for himself. While they did discuss investment options, Harris said, they also dove deeper into other ways the client could handle their situation.
"It's more, 'Are you prepared to make this change? What about your job do you hate? Can we give you the words to bring to your manager to negotiate better terms in terms of workplace flexibility? Will that be enough to make you happy with your work," Harris said. "While we're doing that, let's also have a conversation about starting this other project on the side, and if it works, we can go to this."
It's not just a more effective way of doing business — it's a matter of survival. "Artificial intelligence will make investment-only firms obsolete in 5 years and extinct in 15," Harris said. The firms that survive will do so by providing the services that clients need now: tax planning, family meetings and inheritance management, maximizing Social Security and Medicare benefits, reducing college costs, selling businesses, navigating promotions and salary negotiations.
"Innovation is hard," Harris admits, and involves both planning ahead and remaining flexible. "Whether you go to Berkshire Money Management, or Amazon and Apple, and say, 'What does the next 20 years look like?' It becomes a real head scratcher," he said. "You really have to anticipate the way people are going to change their behavior."
Employees play a huge role in the cycle of innovation: forward-thinking firms draw in forward-thinking workers, and forward-thinking workers drive a forward-thinking firm. BMM doubled its workforce during the pandemic, going from nine employees to 20. While the company also took on 200 new clients during the same time period, its hiring rate still exceeded its growth rate. "We brought in more employees than we needed, anticipating future growth," Harris explained.
The team leans heavily toward the younger side ("At age 49, I am technically the second oldest per-son there," Harris quipped. "After that it drops way down. which is a benefit because the highly credentialed team will be here long past when I am retired.")
"Growth is of utmost importance. Because it is fun."
The rising generation of workers has its own ideas of what a good job should offer. "You have to find out what it is that makes them happy," Harris said. "Is it flexibility, is it parties, is it compensation, is it being able to leave when you want to go see a softball game for your kid? And how do we celebrate you within the success of the team?"
Most importantly, employees — especially the innovators — thrive on progress.
"Growth is of utmost importance," Harris said. "Because it is fun."
At BMM, "We tend to celebrate wins daily as opposed to mile-stones annually. Whether you're bringing on new clients or opening a new office, or providing a new service, it's something that keeps you energized."
"Repetition can wear on your soul," he continued, sliding into philosopher mode. "You don't want to have a day when you get up in the morning and say, 'I don't want to go into the office.' Growth allows people to have the opportunity to come in and experience a professional challenge, and a personal delight, because they have the opportunity to grow."
This article originally appeared in the Berkshire Eagle on April 28, 2022.
This content was paid for and coordinated with the Advisor. Sponsorships, community engagement efforts and the listing of organizations should not be construed as an endorsement or a recommendation to retain Advisor.