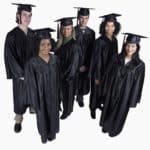 It is a debate that has occupied this country for years. Should college be free to all Americans or should we continue to pay for it? Those in favor argue it is one of our inalienable rights. Those oppose say college is a privilege to be earned and paid for in order for it to have meaning and merit.
 I suspect the majority of Americans who are still paying off student loans, or are already paying for a college education (or soon will be) would vote for free tuition. Who can blame them?
My daughter was born in 1980 and graduated college in 2002. During that time period the cost of a college education increased almost 400%. Looking at prices today, I would say I got off fairly cheap. Americans spent almost $100 billion last year to send over 14 million students to public colleges and universities. We all know that tuition and fees continue to skyrocket, climbing 6.6% annually. Yet, most of us believe that going to college is essential and the key to an economic future and the American dream. 
Costs differ because not all colleges charge the same. Forty-four percent of all full-time college students attending a four-year college are paying less than $9,000 per year for tuition and fees. That's a lot of money for a family pulling in $50,000 annually. At the other end of the spectrum, roughly 28% of full-time students are attending private, non-profit institutions and are paying at least $36,000/annually. Those numbers do not include the cost of living, eating, school supplies and a long list of other school expenses. All but the wealthiest American families are priced out of that market.
To be fair, most students receive some kind of financial aid, usually from the local, state or federal governments. That aid amounted to about $178 billion this year. That means the average student probably received a little over $12,500 in aid and about half of that won't have to be repaid.
When you account for all student loan programs, grants, tax breaks and such the government is already paying for almost half the tuition, so why not the rest?
Much of the debate comes down to why the government should pay for schooling at all. Critics argue that the public school system is already a disaster. Our students' learning abilities have already fallen way behind their peers in other countries.  Our high schools are becoming a breeding ground for drugs, crime and dropouts. If we allow colleges to become part of this flawed system, critics say, then we may as well call an end to the educational system in America.
It might be helpful, therefore, to explore why a free educational system evolved in America in the first place.
It was Thomas Jefferson who first suggested creating a public school system. He and others like him argued that common education would create good citizens, unite society and prevent crime and poverty. The debate raged for many years. It took until the end of the 19th century before free public education at the primary level was available to all American children.
High school was a different story. Although the first publically supported secondary school, the Boston Latin School, was founded in 1635, it was Benjamin Franklin who first saw the need for something more than a primary education. The demand for skilled workers in the middle of the 18th century led Franklin to establish a new kind of secondary school called the American Academy in Philadelphia in 1751. Once again, public secondary education was no easy sell.
It wasn't until the 20th century that high schools took off. when the majority of states extended compulsory education laws to the age of 16. From 1900 to 1996, when government began paying for secondary education, the percentage of teenagers who graduated from high school increased from 6 percent to 85 percent.
Since then the purpose of a free education has widened from Jefferson's concept of ensuring that citizens could read, write (vote) and remain law-abiding to something more. In order to escape poverty and to provide a skilled labor force for the industrial revolution, Franklin and his peers believed a secondary education was deemed to be in the national interest.
This history lesson has a point. Ask yourself two questions. Are we still in the industrial revolution or have we graduated into something more? And two, does a high school education prepare our youth to enter the work force, escape poverty and become a productive citizen of the economy?
For readers who answered no to the above questions, you will want to read part II of this column. Stay tuned.