It is a subject that most Baby Boomers want to ignore. Many of us are gambling on the hope that we won't need long-term care, or if we do, our medical insurance, Medicare, or, at worst, Medicaid will cover the cost. Think again.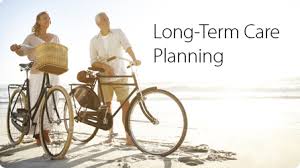 In last week's column I outlined what long-term care insurance is all about and why you might want to consider purchasing some insurance against the possibility of avoiding economic disaster at an advanced age. Assuming you might be interested in this prospect, let's examine some of the ways and questions you need to ask in your search.
First, realize that long-term care insurance is complex. The insurance covers "assisted daily living activities" such as bathing, dressing, eating, transferring (to bed, chair and back again) housework, managing money, shopping and communicating with others. It can be expensive. If you live in the Northeast, for example, you can pay as much as $5,000-$8,000 per year.
That's too much, you might say, but the alternative to paying $5,000/year for insurance may be paying $5,000 per month or more. Nursing homes can go as high as $10,000/month. At those rates, you could easily go through all your assets in a space of 2-3 years. Normally this kind of insurance is quoted by the day. For example, one company may provide a maximum daily benefit of $150/day. They also limit the time and amount of coverage. In this hypothetical case, the maximum benefit pool would be $219,000 and the maximum period of coverage is four years.
Now here's the risk: you may need more than four years of care or the cost of the coverage per day could exceed $150/day. In either case, if you exceed either the time or amount, you won't have any more coverage and must bear the additional expense on his own. What's worse, if you die or simply don't need the care, you lose the amount invested. There is no death benefit or refund policy.
Given the complexity, as well as the substantial amount of money involved in this area, there is a lot of competition among insurance carriers for your dollars. As you know, whenever the financial community is involved in selling you something, the rule should be buyer beware.
There is a wide array of services provided (with tons of fine print exceptions that you might miss). Insurance premiums charged by these companies can vary by as much as 50% for the same services. Remember too, that the insurance business has no federal oversite or safety nets. As such, you have to be careful when choosing what company to do business with. If your insurance carrier goes bankrupt, there is no insurance (such as the FDIC) to make you whole again.
My advice is to hire a reputable financial professional who understands your personal situation and can assist you in evaluating your options. Today, there are a myriad of "hybrid" options to traditional long-term care insurance. Everything from life insurance with a long-term care rider to fixed annuities is available, depending on what makes the most sense in your particular case. If, on the other hand, you want to go it alone, here are some basic questions to ask in your pursuit of coverage:
How much is the daily benefit and how long is the benefit coverage?
What is the trigger for benefits and how long is the waiting period before benefits begin?
What services are included and what are excluded?
How will benefits increase over time to keep abreast of rising medical costs?
Will my premiums increase over time, and if so, by how much?