Has labor found its mojo?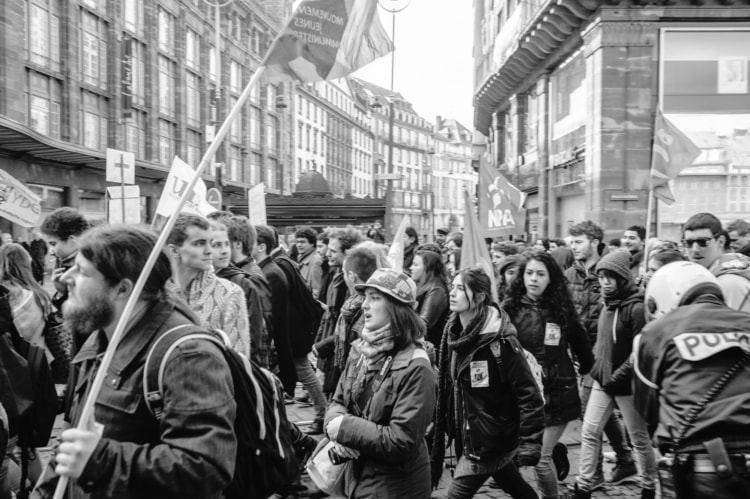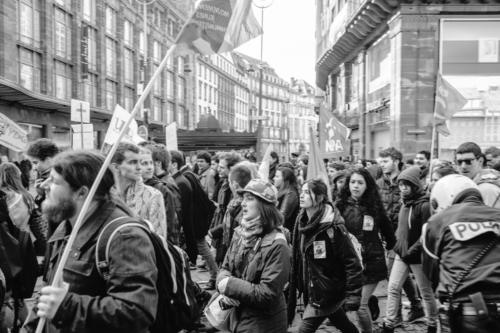 Workers in America are rethinking who they are and what they want. For the first time in decades, the stars have aligned to give the labor movement a much-needed lift.  Will this prove to be a flash in the pan, or something more lasting?
The share of American workers who claim union membership has been declining for years. There is a myriad of reasons for this decades-long decline. U.S. legislation and the court system has created enormous challenges to forming unions. The transfer of jobs to low-paying countries overseas has also devastated union membership. Labor membership can also be expensive with high monthly dues. In the past thirty years of declining real wages, most workers were grateful to just keep their jobs.  Paying union dues when they had a family to feed was not a high priority.
At the same time, the decline of those willing to obtain skills through education or apprenticeship in the U.S. has contributed to a rise in unskilled, service industry jobs. Unfortunately, these jobs suffer from high turnover and minimum wages, and were not a target market of the existing labor union movement.
Everything changed with the arrival of COVID-19. The pandemic ushered in massive unemployment, huge safety risks for employed workers in essential sectors, and a wholesale movement towards work-at-home solutions. It was a tiring time for the American worker. And from the ashes a new attitude towards labor was born.
Workers employed in "essential industries" who showed up to keep the country running were no longer taken for granted. Nurses, truck drivers, food industry workers and more became the new American heroes. Local media outlets, politicians, and even the White House, honored and featured ordinary laborers, who made extraordinary efforts in our time of crisis.
But the pandemic was also the match that forced many Americans to rethink their relationship to work overall. We are, for example, one of the few nations where health care benefits are dependent on your employment. As health care risks and unemployment skyrocketed simultaneously, holes in our private health insurance became readily apparent.
'Life is too short' became more than just a quaint slogan. Many Americans' obsessive belief that "work first, ahead of everything else" as life's preeminent goal might need to be re-examined. For others, long-buried work issues such as safety, benefits, wages, and more rose to the surface. Burnt-out workers simply decided to resign or retire rather than remain at their jobs. Others are taking a more aggressive approach to the workplace.
Unionization, for many, has been perceived as a viable instrument for change.  In 2020, union membership ticked up to 11%; about half that gain came from the public sector. It is early days, but through November 2021, union actions have increased. The Department of Labor reports 13 labor strikes so far this year, but they only include strikes that include 1,000 workers or more. As such, they did not report, for example, a seven-month strike here in Massachusetts of 700 nurses at Saint Vincent Hospital in Worcester.  Under the surface, labor experts say that well over 225 strikes is a more accurate number if you include smaller company workforce actions.
The nation's attention, however, has been focused on several high-profile union actions. Some big companies like Amazon, Starbucks, John Deere and Kellogg's, have been targets of the labor movement.
Amazon, the country's number two employer, fought a massive campaign to defeat union organization in Bessemer, Alabama this year. The vote to organize was defeated—a major blow to unions nationwide.  But soon after, the National Labor Relations Board determined that the company improperly pressured warehouse staff not to join the union.  That was no surprise to union organizers.  It is a part of an ongoing trend dating back to the 1970s where companies have engaged in unfair labor practices that were largely supported by labor laws favoring employers over workers. However, times are changing
Thanks to the pandemic-induced change in attitude towards workers, positive union sentiment, for example, is at a generational high in the U.S., with 68% of Americans supporting unions, according to new data from a Gallup poll.  The Biden Administration is also supportive of unions as are many in the progressive wing of the Democrat Party. The PRO Act, currently being debated in the U.S. Senate, for example, would make it easier for employees to unionize and establish tougher penalties for employers who illegally attempt to stop their efforts. It would also allow gig workers and contractors to organize alongside traditional employees.
These trends, together with the present labor shortage, has strengthened the hand of labor unions going forward. Amazon workers are slated to vote again in Alabama. Kellogg's workers, on strike since October 5, 2021, are still holding out for better wages after rejecting a five-year, 3% offer from the company. In November 2021, John Deere's 10,100 production and maintenance workers won their strike with management and signed a new six-year agreement.
Only last week, workers in Buffalo, NY, a city with a pro-union history, voted to form a union at Starbucks. It was one of three Starbucks locations in the city that held a vote (the second branch ended in a tie, while the last voted to reject unionization). The workers in the winning branch want better wages, benefits, and working conditions.
Observers are watching these actions carefully, given that there are 8,000 corporate Starbucks locations across the U.S. It is the first successful attempt to unionize an unskilled labor force in the leisure and hospitality sectors. As such, a better, union-negotiated contract could spur more unionization efforts across the country.  Whether these union efforts end with a bang or a whimper, bringing the American worker's condition to the forefront of the American agenda, is an absolute positive in my book.