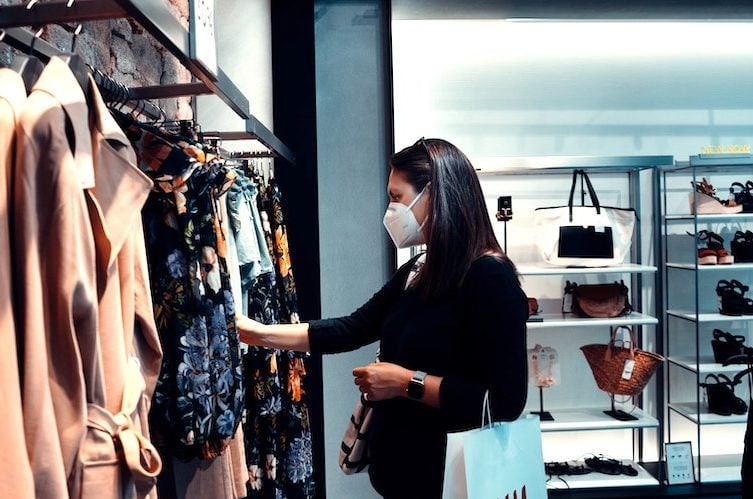 According to a survey performed by AlixPartners (AP), U.S. consumers are the "most anxious" about their health and finances. Chinese consumers rank the lowest in terms of anxiety pertaining to those issues.
AP's April 2021 survey concluded that "half of all global consumers say their spending habits have changed permanently due to the pandemic." Whether you are a business owner or an investor, it is essential to understand where consumer spending will be directed. To figure out the "where," we have to understand the "why."
According to the AP survey, nearly one out of every three U.S. consumers identified as being very or extremely concerned about their physical health. Roughly one in four people report being very or extremely concerned about their mental health. This has implications for businesses as they may have to increase their visible hygiene and COVID-19 safety protocols to attract reluctant consumers. Doing so will also help businesses position themselves to take a larger share of the wallet from more adventurous buyers.
There will almost certainly be a big snapback in consumer spending due to pent-up demand. However, the study also tells us that of those who reported changing purchasing habits, 44 percent said they will spend less post-vaccine than pre-pandemic. To get consumers to buy again, businesses will have to make customers feel safe and provide them with a positive experience. For example, the first wave of eager shoppers will likely be younger folks. No matter the industry, companies will want to reconsider their product and service offerings to provide for Generation Y (Millennials) and Gen Z (iGen) if they haven't already done so.
You may wonder if I am overthinking it since, as the saying goes, "a rising tide lifts all boats." Perhaps. But sophisticated investors will prefer to be associated with companies that have adjusted for the new consumer behaviors.
Investing in the companies doing it right could mean a more significant return than the overall market. I am not using this as a buy screen; I am using it as a sell screen. My job is to protect portfolios by avoiding the stocks of companies that are not adjusting to new buying habits and consumer safety needs. It's a better sell screen than a buy screen because if the company is doing it wrong, they will struggle. But just because a company is doing it right doesn't make their stock a "buy." Other moving parts are needed to make it attractive.
To consider investor implications, let's look at it from the lens of a business owner. According to a Facebook and the Small Business Roundtable report, 22 percent of U.S. small- and medium-sized businesses were closed in February 2021. That is up from 14 percent in October 2020, and close to the pandemic peak of 23 percent set in May 2020. The rate of closure varies from state to state. Like Maine and Colorado, some states were only seeing closures in the 9-10 percent range. However, closer to my home, states like New York and Massachusetts experienced closures at 30 percent.
Suppose the 2021 "all sales" pie was as big as the 2019 pie. In that case, those businesses remaining open might benefit from the silver lining that there is less competition. I suspect that the new 2021 pie will become bigger than the 2019 pie. However, given new consumer buying habits and lingering reluctance, it doesn't mean that a business's slice of the 2021 pie will be as big as it was in 2019. In fact, if they don't adapt and don't cater to the buyer's new needs, then they might find that they don't get any of the pie. Or all crust and no filling. Or instead of warm apple pie, they end up with pork pie (that's actually a thing).
Businesses with innovative management will defend and grow revenues by adapting correctly. Businesses that fail to do so risk losing clients and stalling growth. If you're an investor, you should consider selling the stocks of companies that aren't making those adaptations.
Side note: I had a Zoom call this weekend with a small group, and this subject came up. They asked, "Well, how do we know if companies are actually doing this?" In response, I asked them to walk me through how they researched the companies they own because we could discuss reverse-engineering the tools they already know how to use. It turns out that the stocks they owned were stocks that were bought because "they were going up."
Yeah, so this advice is for investors who know what they own. If you buy something because you're chasing the price of a stock, or a coin, or a tulip, well, good for you. But that's not investing. That's trading. And, apparently, some people can make money doing it. I can't, but someone can. This advice is for investors. If an investor wants to know if a company is making the right decisions, they can learn a lot about a company from its website's legal language. Visiting its locations is a great idea, but there is a pandemic going on, so I can understand any hesitancy. Also, an investor can lean on the Securities and Exchange Commission (SEC). The SEC has an electronic, data gathering, analysis, and retrieval (EDGAR) website to make life easier for investors. I'm not trying to teach you how to chase down "home run" stocks. I'm just trying to give you an edge in not picking the wrong stocks.
A rising tide may not lift all boats, but it typically lifts more than a few. When it comes to stocks, that tide is fund flows. And stocks are awash in cash. More money has gone into stock-based funds over the past five months than the previous 12 years combined, according to Bank of America. From November 2020 through March 2021, stock-based funds took in $569 billion, compared to $452 during the prior 12 years.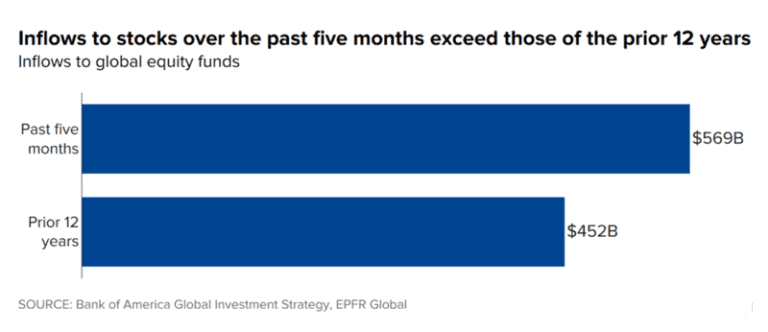 I hypothesize that part of the reason for such massive inflows is the expectation for those delicious 2021 and 2022 pies to be bigger than the oven itself. For companies in the S&P 500 index, the consensus year-over-year profit growth estimates for the second quarter of 2021 is 23.8 percent. Those expectations had continued to inch up as we got closer to the start of earnings season, which kicks off this week. That's the opposite of what usually happens. Earnings estimates tend to get ratcheted down as the release dates approach. The earnings estimates rose by six percentage points for the index to $39.86. Earnings estimates are up so much that now the S&P 500 is trading at 20.4 times forward earnings. The good news is that it's lower than the 22.8 multiple at the end of 2020. The bad news is that it's still not too far off from the dot-com bubble levels.
In addition to bubble-like valuations, some contrarian signals give me pause. Bank of America reported that its wealth management clients collectively are invested in the highest equity allocation since 2005, before the Financial Crisis. That allocation reflects the optimism of other financial advisors in the U.S. On April 7, 2021, Investors Intelligence (II) reported their U.S. Advisory Sentiment numbers. The bulls climbed to 60.8 percent. As II points out, "bulls 60 percent and above signal increased danger the higher they get, and they need to prepare for a market decline." The number of bears is at 16.7 percent, making the bull-bear spread 44.1 percentage points. II reminds us that spreads above 40 signal that we should consider "defensive measures."
Is it possible that the expected growth will smooth out the high price multiples and validate that over-optimism?
The Atlanta Fed GDNPNow forecast for the growth of U.S. Gross Domestic Product (GDP) for the first quarter of 2021 is 6 percent. As impressive as that number is, Moody's Analytics calculates that the median forecast for second-quarter GDP to be a whopping 9.3 percent as of April 5. Further, estimates of growth for the second half of the year have been nearly as robust as the first quarter. It's no wonder that the Conference Board's consumer confidence index jumped 19.3 points to 109.7 in March 2021. Not only is that the highest level of confidence during the pandemic, but it was one of the largest monthly jumps on record.
So, yes, it is possible that the expected growth may smooth out price multiples. Yet, I suspect the next ten percent move for the stock market's price has a coin flip's chance of being either up or down before the market ultimately sees newer highs. Could it go down as much as 20 percent? It's a risk. Jeremy Siegel, Wharton School (University of Pennsylvania) professor of finance said in a recent interview that, "we could have the market go up 30 percent or 40 percent before it goes down that 20 percent." So long as the pandemic doesn't block economic and earnings growth, I believe Professor Siegel will be proven right. However, we must continue to keep an eye on the path of COVID-19.
On April 12, 2021, the World Health Organization (WHO) said that the trajectory of coronavirus infections is "growing exponentially," with more than 4.4 million new COVID-19 cases reported in the prior week. That was a 9 percent weekly jump across the globe, the seventh consecutive week of increases. Deaths were up 5 percent last week. The progress has been better in the U.S., but the global evidence shows how fragile that path can be. Further, on April 13, the Center for Disease Control (CDC) and the Food and Drug Administration (FDA) called for a pause on the use of Johnson & Johnson's one-and-done vaccine due to blood clots.
I remain invested. I am going to sell companies that haven't adjusted to new consumer buying habits. I will prepare my mind for a pullback in the broader market so I don't become rattled and sell when I shouldn't. But I am also not going to be complacent and think that COVID-19 can't derail the progress we've made.
Allen Harris is the owner of Berkshire Money Management in Dalton, Mass., managing investments of more than $600 million. Unless specifically identified as original research or data-gathering, some or all of the data cited is attributable to third-party sources. Unless stated otherwise, any mention of specific securities or investments is for illustrative purposes only. Adviser's clients may or may not hold the securities discussed in their portfolios. Adviser makes no representations that any of the securities discussed have been or will be profitable. Full disclosures. Direct inquiries: email hidden; JavaScript is required.