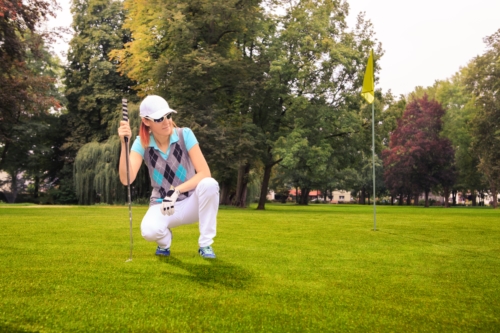 In 2020, during the midst of the pandemic, golf made a comeback. More than 24.8 million people discovered outdoor refuge on the links last year, and the popularity of the sport continues to grow.
Golf, as many have discovered, is an outdoor activity that has proven to be an almost perfect answer to the limitations of the pandemic. Players can get outside, exercise, and at the same time, socially distance themselves from one another. Last year, the U.S. saw the largest increase in golfers (2%) in 17 years. This year, the number of rounds played was up 16.1%, compared to the same period in 2020, according to the National Golf Foundation. And with this increase has come an upsurge in both golf equipment and apparel.
Golf equipment sales in the U.S. have grown by double digits (37%) so far this year, as have food service shipments to country clubs (+32%) and golf courses (+51%) compared to last year. Typically, for those who do not play golf, the reward for playing a good round of golf is usually the food and beverage consumed afterwards. The top items this summer included bottled water and energy/sports drinks, juice, chicken wings, hot dogs and French fries.
There are roughly 15,000 golf courses in the U.S. that account for the almost 25 million outdoor golfers. However, there are another 21 million people who are enjoying the sport through different entertainment venues like Drive Shack, Big Shots Golf, and TopGolf.
TopGolf, which started in China and now has 70 locations in six countries, offers an alternative to driving ranges. It is a high-tech golf game that appeals to players whatever their skill level.  It is only one of a growing list of interactive golf experiences and virtual simulators that go beyond the traditional 18-hole golf course. Throw in a more social and gamified atmosphere, plus food and drinks, and the appeal to neophyte golfers is understandable.
The sport is also attracting more women as well as younger players, and even families. The number of female golfers jumped by 8% in 2020, which was the largest gain in more than five years and 44% of those who played at least one round of golf last year was under the age of 40. That is not to say that the older, passionate golfer is on the down swing. They are still in the game and their average number of rounds played continues to increase.  An all-time high of rounds played (20.2) was hit last year, according to NGF, and that number will probably be surpassed this year.
It appears that the same wave of golfing popularity is surging worldwide as well. In the U.K, golf staycations are skyrocketing, while China's growth rate in new players is above 7%. Both Japan and Canada, which are top golfing countries, are also seeing robust growth.
Golf equipment companies such as Callaway, Titleist, and Dick's Sporting Goods are all forecasting increased strength in the future. The only caveat is the difficulty in obtaining product due to supply chain disruptions. Some managers are already seeing a slowdown in deliveries for certain golf equipment.
The good news is that Americans are exercising more and perhaps realizing that playing golf is not as difficult as they thought. If this develops into an entirely new generation of golf enthusiasts, so much the better.